Samples
Click on any of the links below to view samples of Storm Alerts or any of our various forecast products. Remember, we can customize forms and deliver via both e-mail and fax. In 2017, products will be delivered by our new Precision Weather Service App!
Movie and Production Houses
Synopsis and Forecast prepared exclusively for MGM/United Artists for event
Monday May 17th, 2004 in Los Angeles, California at 7:30pm.
Issued: Tueday May 11th, 2004   9:00am eastern by Wayne Mahar
SYNOPSIS: Still no major weather problems in sight for this event, however, patchy marine layer low clouds and fog will have to be monitored. This is more of a nuisance than a real weather concern however. A stable, quiet pattern will be setting up for all of California for the end of this coming week into early next week, and warmer.  There will be a disturbance that tries to shift it a bit for Sunday into Monday, and while this will bring a flow of moisture over northern California and the northwest, as is typical this time of year, Southern California will remain dry, with the exception of marine layer clouds, which may be quite stubborn through the morning and possibly midday hours.  During the day, clouds may hold tough at the beaches, but inland should be at least partly sunny.  Expect clouds to roll back in early Monday night, however.
FORECAST for Los Angeles, California for Monday May 17th, 2004 at 7:30pm (as we currently see it):
Marine layer low clouds and areas of dense fog during the morning, especially closer to the beaches, but it may roll farther inland, slowly thinning out to a mixture of clouds and sunshine for the afternoon. Marine layer low clouds may very well begin moving back in from the shore as early as 6-9pm with some fog to follow. Timing is not definite however. Afternoon temperatures in the 70s, cooler at the beaches and warmer further inland. Temperatures cooling several degrees through the event.  Winds N/NW 5-10, locally onshore. Probability of precipitation 0%, but a chance of some patchy drizzle along the immediate coast.
Normal high and low for May 17th, 2004.
High 70. Low 57.
CONTACTS/QUESTIONS:
Wayne Mahar 315 638-1666 or 315 569-SNOW
Peter Hall, Chris Brandolino & Cheryl Nelson: 315 477-9467 or 68
Phil Spevak: 315 427-1301, Russ Murley: 207 829-2280
Severe Weather Notification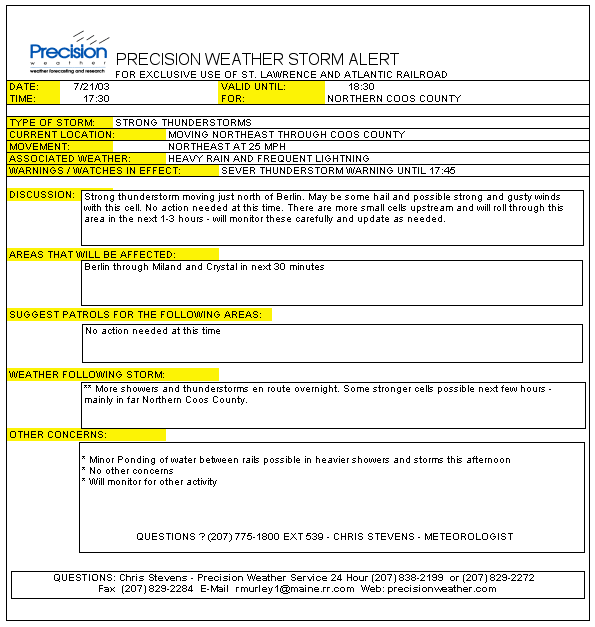 Ski Area Forecast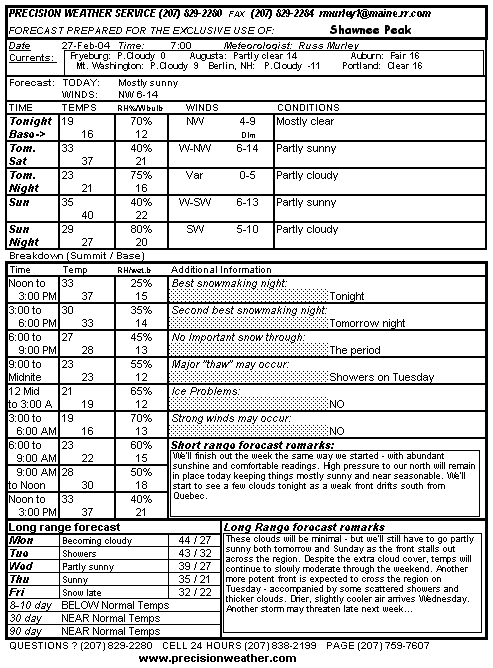 Ski Area Forecast with Graphing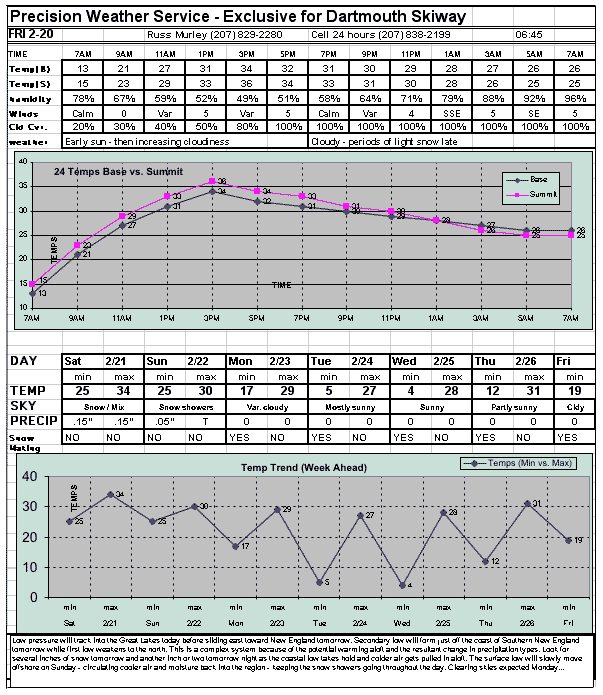 Daily Forecast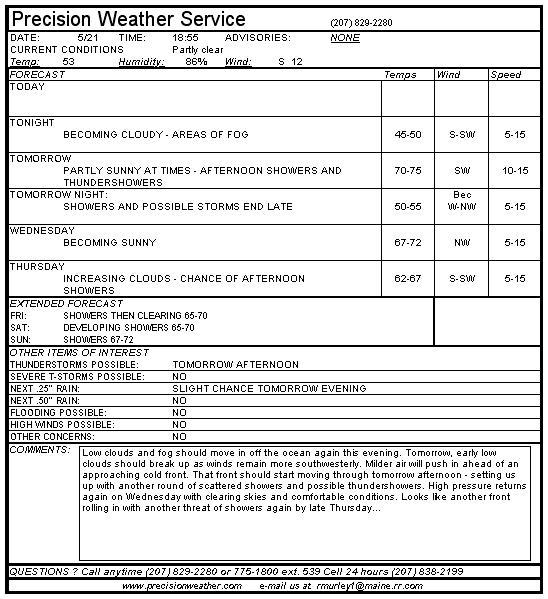 AG Forecast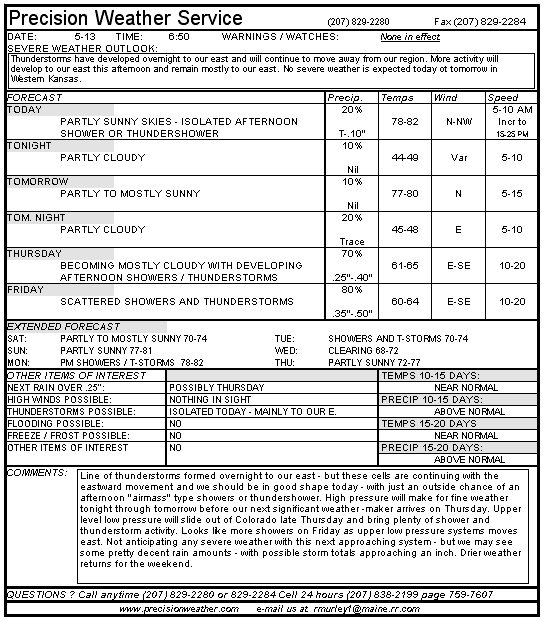 Winter Storm Alert for Highways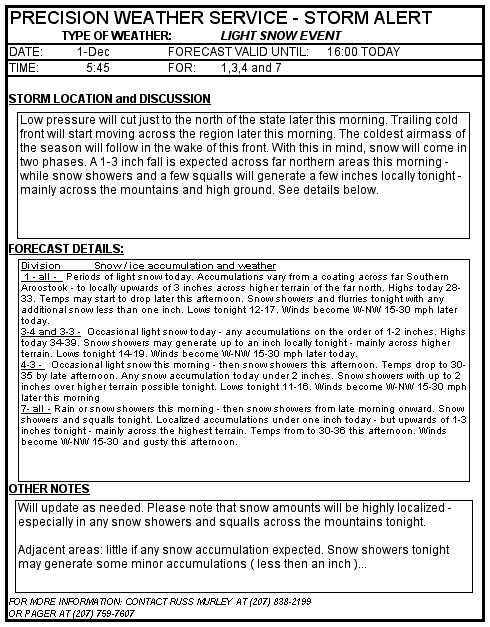 Winter Highway Short Alert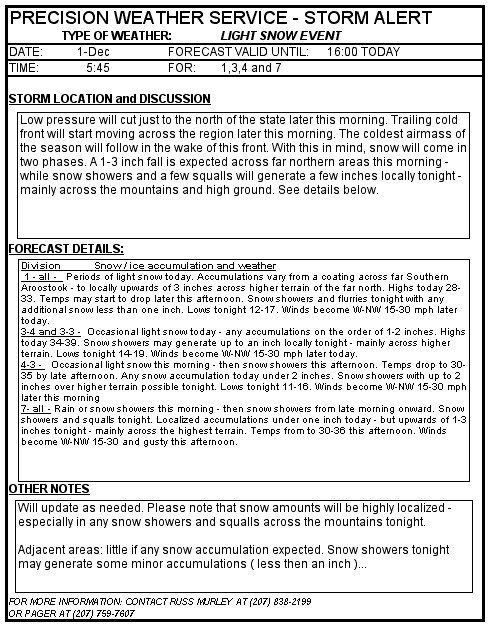 Among the hundreds who depend on Precision Weather Service... We are the forecasters to the stars! Fairs, festivals, concerts and any type of outdoor events. Stop worrying about the weather.
Let Precision Weather Service do the worrying for you.
Please complete the following form to learn more. We guarantee a prompt response!