Meteorologists
Wayne Mahar | Russ Murley | Phil Spevak | Peter Hall | Paul Janus | Steve Adamson
Matt Stevens | Chris Stevens | Mike Brookins | Aaron Lawrence | Tom Chisholm | George Lange | John Hickey | Kevin Kelly
Wayne Mahar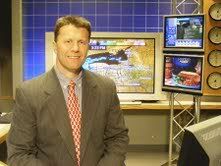 Wayne Mahar is President and founder of Precision Weather Service.
Wayne has been a professional member of the American Meteorological Society, The Canadian Meteorological and Oceanographic Society and the National Weather Association for 30 years. He holds the Television and Radio Seal of Approval from the American Meteorological Society.
Wayne is proud of being selected one of the "Outstanding Young Men in America" in 1984 by the United States Jaycees organization. He has written many weather related publications. In 1989 he authored a 35 page weather workshop for high school Earth Science classes entitled "Wayne's Weather Workshop". In 1990 Wayne co-authored a course workbook on the science of meteorology, which was sold worldwide. In 2007, Wayne, with the help of meteorologists Chris Brandolino and Peter Hall, developed a college level "mock weather disaster" being used as part of the educational requirements for a college degree in Emergency Preparedness.
Wayne became interested in weather at an early age and developed and managed a private weather service starting at age 13! One of Wayne's early assignments was providing meteorological support for the construction of the Maine Yankee atomic power plant. Wayne's business grew after he graduated from high school to encompass over 75 clients. Wayne is also a forensic and research meteorologist. His extensive experience includes consulting and researching over 500 weather incidents of various types across the United States and serving as an Expert Witness several dozen times from county court systems to State Supreme Courts and Court of Claims.
Precision Weather Service was established in the early 70s and continues to expand and thrive, currently with over 200 clients worldwide. Precision Weather Service is the leading weather service called upon for accurate weather by the Hollywood and New York City movie industry forecasting for Steven Speilberg, The Academy Awards, The Cannes Film Festival, Golden Globes and the Sundance Film Festival.
Wayne also has a long television weather background. He started his television career in 1980 in Portland, Maine. In January of 1985, he because the first meteorologist on television in central New York and has set the standard for everyone else in the market. He has been Chief Meteorologist at WSTM NBC TV Syracuse, NY 25 years. Wayne is also Chief Meteorologist for WTVH CBS TV and WSTQ CW-6 TV in Syracuse. Over the years Wayne has been On Air with weather segments for the TODAY Show, MSNBC, The Weather Channel and other local television stations around the country.
In early 2008, Wayne established the Priscilla Mahar Animal Welfare Foundation, a not-for-profit foundation raising and distributing money to animal welfare organizations around central New York. The foundation was established on behalf of Wayne's mother who passed away in 2007, and who, like Wayne, loved animals. Anybody interested in learning more about the Priscilla Mahar Animal Welfare Foundation or wanting to help is asked to please contact Wayne at wmahar@precisionweather.com.
Wayne lives in Syracuse, NY with his wife and two daughters. When not dealing with the "high pressure" world of weather, Wayne plays alot of hockey, enjoys working out and is also a Third Degree Black Belt in karate. E-mail Wayne at wmahar@precisionweather.com